Last February, at the occasion of his group exhibition during the Congolisation Festival in Brussels, I visited the workplace of plastician Bayunga Kialeuka. Here is a summary of my encounter with the artist.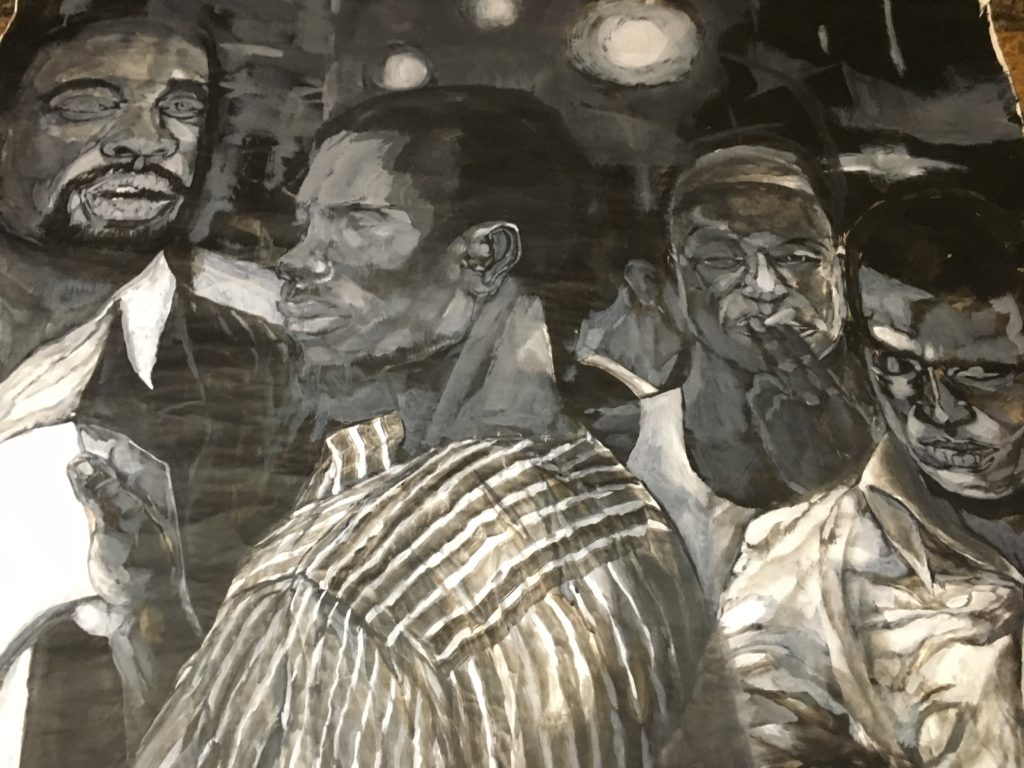 Childhood in Miami, status, working class people
Bayunga Kialeuka is a painter born in Kinshasa. He went to live to the US when he was six years old with his parents and five siblings.
Grewing up in a poor area of Miami in Florida as a black man with a disability influenced him at observing the society and the relations of power in between the individuals. « How people are being treated because of where they are, how they look is my main focus. I have always been interested in the working class people. In the way they try to emulate themselves or separate themselves from this status. »
His obsession with clothing and expensive articles also comes from this situation. « Being part of the working class can mean something different according to the persons who are around you, according to your environment. I pay attention to those symbols. In my art I try to replicate some of the symbols. In some environments, you may not be poor per se but you will be judged according to your level of education, to the way you speak and you dress. Especially in the Congo, the way you behave was very representative of your status. »
Bayunga uses the question of disability as a symbol of indication of class. In his work he tries to disseminate these symbols in the background. « The family structure and the fact of not being wealthy » are two other important symbols that we can find in his art. As an immigrant in the US, he tended to compare himself to the neighbours and not especially to Superstars because he had this feeling of being different.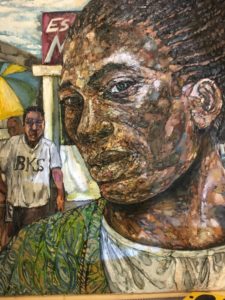 For example, the way he used to define masculinity when he was a teenager was influenced by little details that he still discovers today. Those details which are ventilated in the society influence what people value. That's why he places them in his work.
Congolese roots
The connection to the Congo has always been there or under the surface. It is now that he lives in Belgium that he feels he can openly refer to his interest to the Congo in an almost legitimated manner, because of the presence of the colonial history in the public space.
The faces of his characters were meant to translate the emotions and psychological stress that these working people  were going through, as regards to the economic structure of the society, in Kinshasa where he was born and where he has always taken his inspiration.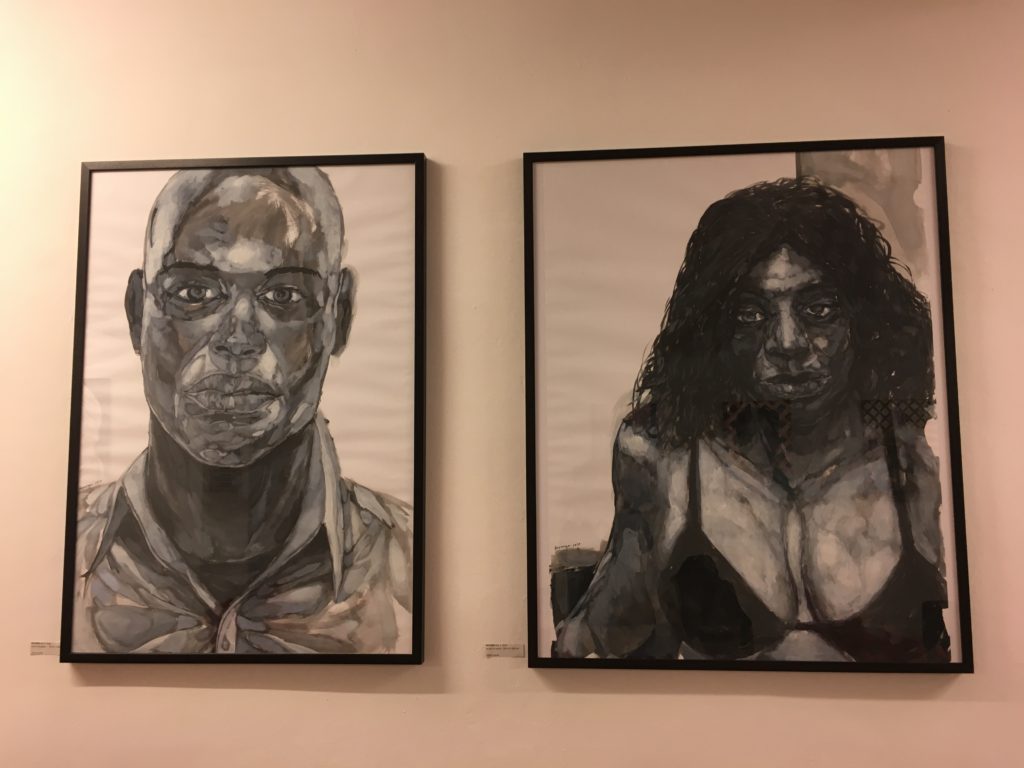 Ndumba 1 and 2
According to the painter, this work shows part of the westernization of the congolese culture because those individuals prostitute themselves for a majority of foreigner clients. They are primarily there for foreigners. It represents his jab at western culture. There has always been this longing to escape: skin lightening, hair straightening, clothing. There are many ways to escape, and Bayunga uses prostitution to illustrate one of it. « People are fighting the poverty and in the process are going towards something that is not as aligned with their local values to seek for employment« .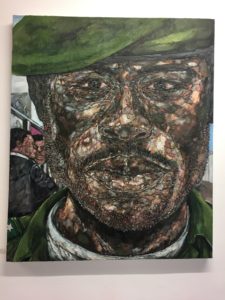 Ngwaka, by Bayunga Kialeuka @ Festival Congolisation 2019, Brussels, Pianofabriek
« Ngwaka is a hunter group from the Bangala people. A group that was considered among the most military ready according to the Belgian colonizers, whether it's true or not ».
This portrait as his other paintings refers to an experience where he saw these individuals. He uses reference photographies and will later find images that will enable him to put that experience he felt when seeing them into paintings.
He met this soldier at the airport while picking up a guest. « There was stress there but the situation wasn't clear. The soldier smiled but at the same time I had the feeling he could have killed me for the same price. »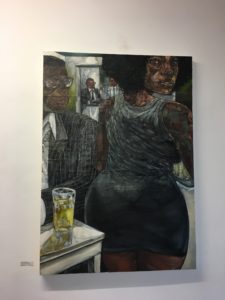 The last painting of the exhibition showcases people who go in the bars and who wear suits, have a car and work downtown. They are not rich, but they can afford more than the local prices. And these men have access to some behaviours that the foreigners have the status to adopt towards women. They reproduce hierarchy whether because they have more money or more psychological power.
When Congolese people who live abroad come to Kinshasa, they come with this position that they know more, whether they are conscious of it or not. This is how the artist invites the viewer to look at himself in the mirror and to always question the context, always question how one's behavior reproduces or not a power relationship.